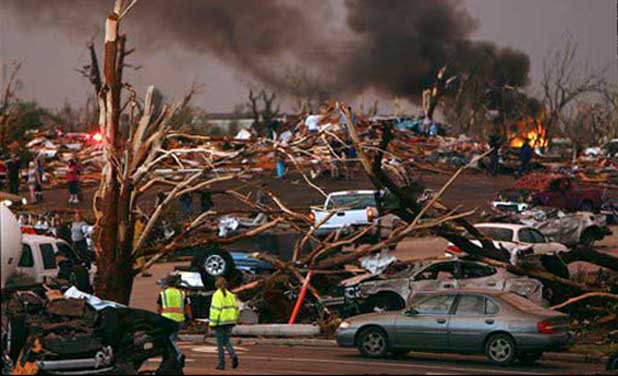 A lot of things have happened since my last post, for sure. We have moved in with Jenny's parents, been on a major week-long job interview in Florida (stepping toward a major burning bush in our lives), and the boys have started summer school here in Springfield.  Needless to say, I haven't been able to keep up with my blog.
The end of the world was to be at 6:00 p.m. on May 21st. It didn't happen as Camper predicted, but the world was definitely changed for many people in Joplin and Duenwig, MO in less than 24 hours from his prediction. We were in our bathroom with our weather radio on when the storm went through Joplin. The storm track was about 10 miles to the south of us in Carthage. We had big chunks of debris in our yard following the storm.
I was able to go over and help out some on Monday, Tuesday, and Thursday following the tornado. Words can't describe the destruction that happened. There was also an indescribable force at work following the storm…the Church…busy helping rescue, recover, and restore. The amazing thing is that it the entire body of Christ irregardless of denomination–Convoy of Hope (Assemblies of God), Southern Baptist Disaster Relief, Samaritan's Purse, and the list goes on and on.
At Forest Park Baptist Church, there has been over ten thousand volunteers come through to help with Disaster Relief, all funneled through the great ministry of Samaritan's Purse. Forest Park turned their "bus barn" into an amazing place called "Mission Joplin" that is basically a store without cash registers for people to come and receive help. I talked to a former colleague of mine yesterday that tells story after story after story of God's hand through the entire process. They have had a major outpouring of money and donations that they have had to ask people to stop sending donated goods because they were simply overwhelmed and didn't have anywhere for them to store the donations. Amazing what happens when people rally around a cause.
My prayer is that in the next two to three months, the Church will continue to be there to help people in the recovery process. I have several friends that are have major trouble dealing with their insurance company over both their cars as well as their house.  There is also a great difficulty in finding suitable rental houses as well as the sheer amount of debris to remove. Plus, as always, when the government gets involved, there are always a lot of red tape and hoops to jump through to get help.
If you have opportunity, you need to donate to the cause to a reputable organization. Several of those which I have total confidence in are Forest Park Baptist Church (donate here), Convoy of Hope (donate here), or Samaritan's Purse (donate here.) You can also come and volunteer with each of these groups as well. You can also dial 211 on any touch tone phone to talk with the coordinated relief effort . They can help you find the best place for you to serve. There is also a official site for the recovery at rebuildjoplin.org. It is a very helpful site with two main options at the home page, "I have been affected and I have a need" or "I want to give to meet a need." Check it out and get involved. While we are waiting on our next assignment (more details later) we are planning on going down to help volunteer.
Here is an amazing video of the storm and destruction. As you watch it, please pray for Joplin and Duenwig.
[tentblogger-youtube nXjiWaQBXjs]
http://pastordavidstone.com/wp-content/uploads/2011/06/joplintornado.jpg
376
618
David Stone
http://pastordavidstone.com/wp-content/uploads/2013/04/logo-340x701.png
David Stone
2011-06-09 15:54:03
2011-06-09 16:12:10
Where The Streets Have No Name-Joplin Tornado